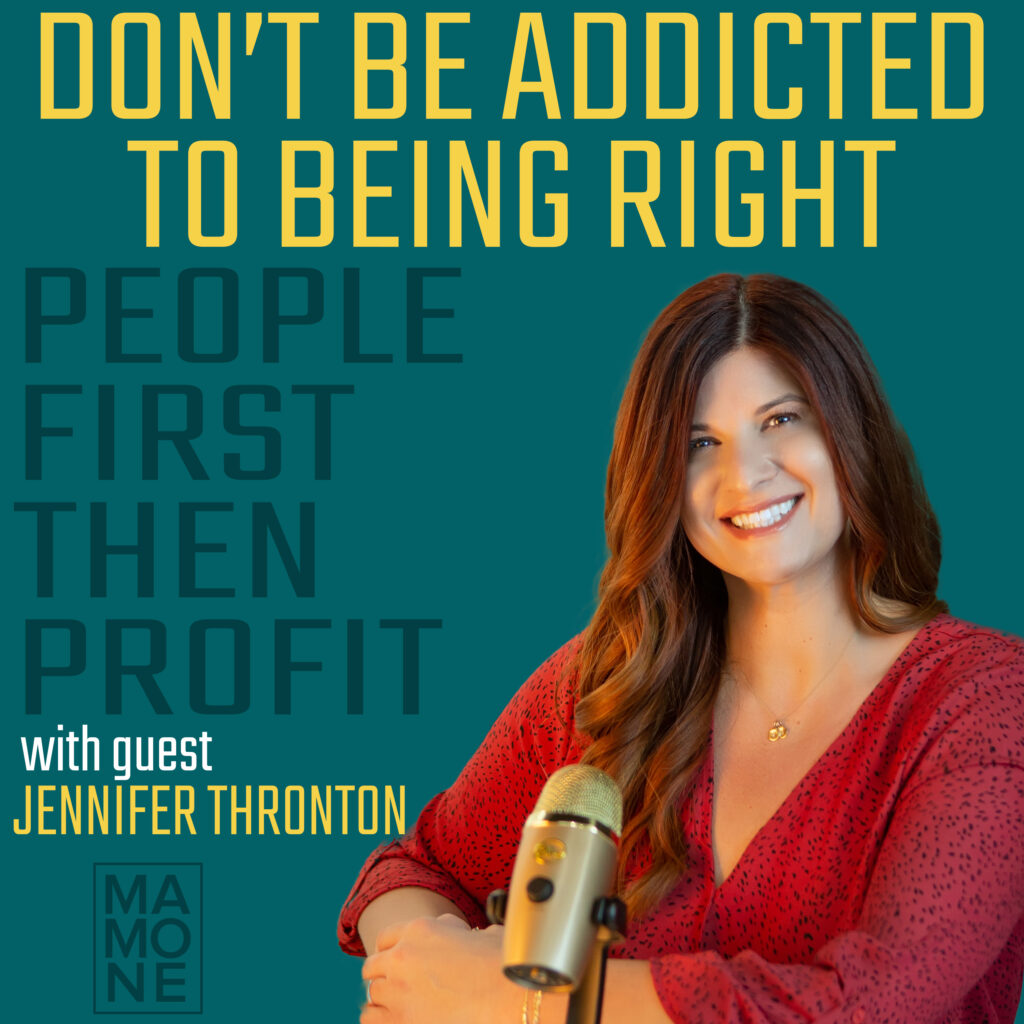 "As a leader, it's your responsibility to create an environment of safety, trust, and honesty where people can do their best work"

— Jennifer Thornton | 304 Coaching
OH MAN, this episode is packed full of interesting and insightful information regarding communication strategy, pitfalls and concrete advice on conversational intelligence, the future of communication and how you can side step getting caught in the "Addiction to Being Right" trap.
My guest this week, Jennifer Thornton, has developed her expertise in Talent Strategy & Leadership Professional Development over her exciting 20+ year career as an HR Professional. She's led international teams to expand into new markets, managing franchise retailers, and developing key strategic partnerships – all while exceeding business objectives and financial results.
The rapid growth of her consulting firm 304 Coaching has been largely due to Jennifer's unconventional approach to building innovative workforce development solutions for companies who are facing breakthrough growth and accelerated hiring patterns. She is a sought-after business strategist, specializing in start- ups and large value-based organizations. She assists her clients in building talent strategies that complement their business strategies to ensure exponential growth.
Key Take-Aways From This Episode:
– Did you know that the Addiction to Being Right is just like any other physical addiction? It originates with the introduction of dopamine, the neurotransmitter responsible for pleasure, because we like being right. We continue wanting (and needing) to be right because we like that dopamine hit.
– What the future of communication looks like and how the various generations in the work force will shape that change.
– Learn how to create trust and safety in team and other collaborative spaces.
– The importance of process planning and standard operating procedure creation in your business regardless of team size (or even if it is just you)
Listen to the People First Then Profit podcast on Apple Podcasts, Google Podcasts, Spotify, Stitcher or wherever you get your podcasts.
Be sure to visit http://www.Peoplefistthenprofit.com for a ton of great content, free resources and links to the People First Then Profit Community
Resources:
Episode Link: https://podcasts.apple.com/us/podcast/ep-3-13-dont-be-addicted-to-being-right-jennifer-thornton/id1500987210?i=1000497880329
Website: https://304coaching.com
LinkedIn Profile: https://www.linkedin.com/in/jenniferrthornton/