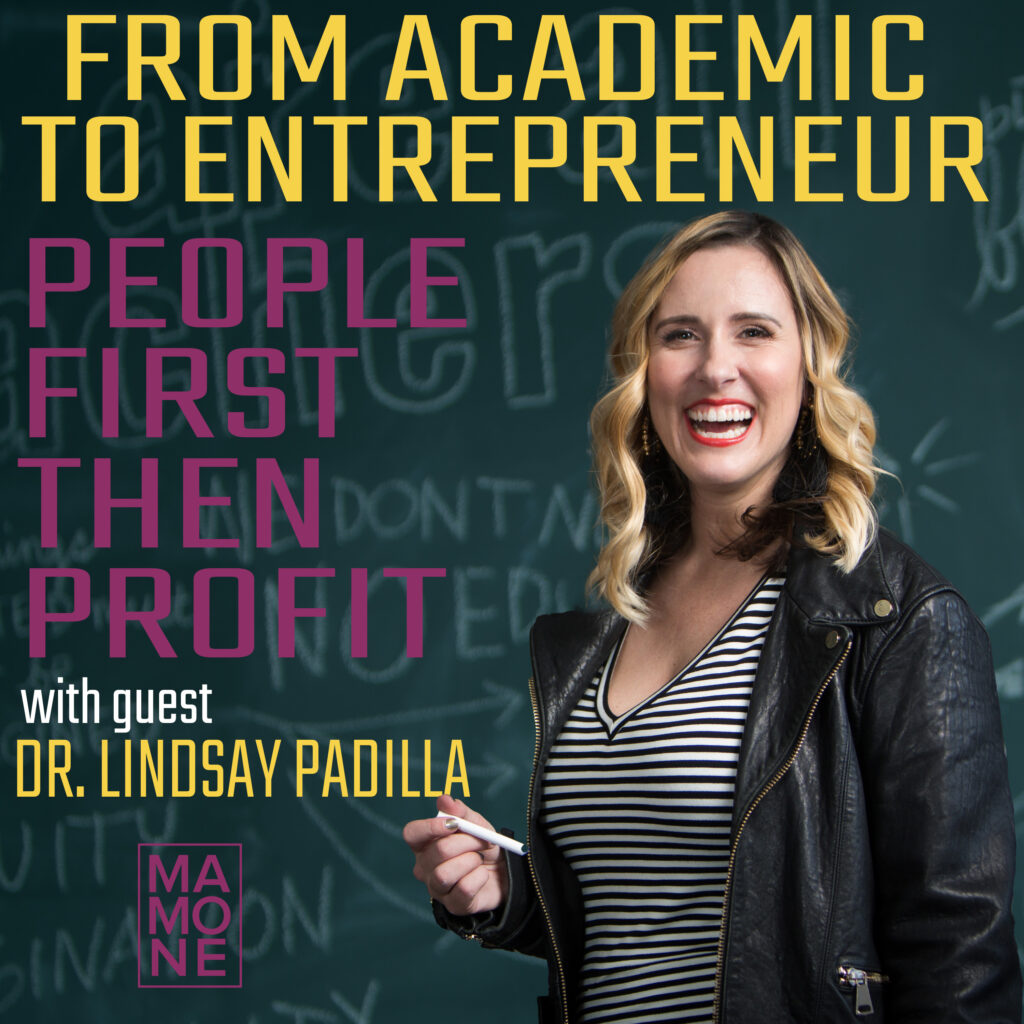 "It wasn't until I fully integrated as a whole and allowed all of me to show up in my business that I think things really truly started to CLICK"

— Dr. Lindsay Padilla | Hello Audio, The Wealthy Teacher's Lounge, Build a Better Beta
Spoiler alert, not all entrepreneurs are refugees trying to escape the pain and anguish of the rat race. Many take this huge leap of faith in search of fulfillment and based on a deep desire to serve their audience. Dr. Lindsay Padilla is one such person. (and an academic to boot).
Dr. Lindsay Padilla is the ex-professor-turned-entrepreneur behind On Course Social, the dynamic prompt calendar tool, and Build a Better Beta, an online program that helps experts and educators alike launch their first courses quickly and easily. She is also the CEO and co-founder of Hello Audio, which takes your content and creates private audio feeds to make consumption easier for your people. All of her frameworks were born out of her tenure-track years teaching adults online at a community college, the ridiculous amount of learning she's done in all things education, and the years spent growing her course creation business online.
Lindsay shares her journey and passion to help others curate their content, create their courses and successfully teach their online audience.
Key take-aways from this week's episode:
It was at her first live event in the entrepreneurial industry that Lindsay first heard "If my students would just finish my course they would absolutely get results".  She quickly learned that she could help considerably more people with her education and experience as a coach and course creator.
Once again a successful entrepreneur reassures us with her journey and achievement that it is rarely an A to B processes. There is a steep learning curve and a trial and error process that is simply a part of entrepreneurship.
In order for things to CLICK you need to bring your whole self along to include the past knowledge and experiences that brought you to where you are today.   
Take stock in your achievements and accomplishments. EVERYONE has a unique experience that can be distilled into a framework that has value and can be taught. This can be the jumping off point for how you determine your area of expertise and how you can start finding your niche.
Just as important as overcoming the fear and taking the first step is the need to continuously reevaluate your progress, your business and how you measure success. 
And finally, embrace your inner extrovert and taking LEAPS (not steps) toward Relationship Marketing in your business to find the people that you can serve and can support you in your efforts.
Listen to the People First Then Profit podcast on Apple Podcasts, Google Podcasts, Spotify, Stitcher or wherever you get your podcasts.
Be sure to visit http://www.Peoplefistthenprofit.com for a ton of great content, free resources and links to the People First Then Profit Community.
Resources:
Episode Link: https://podcasts.apple.com/us/podcast/people-first-then-profit/id1500987210#episodeGuid=aba39fef-8b09-4455-bebb-647ebf8d1218
Hello Audio: http://Helloaudio.fm
FB Page: https://www.facebook.com/drlindsaypadilla/
LinkedIn: https://www.linkedin.com/in/lindsaypadilla/
Instagram: https://www.instagram.com/drlindsaypadilla/
Wealthy Teachers: https://courses.wealthyteachers.com/
Build a Better Beta Course: https://omg.lindsaympadilla.com/bbbinfo
On Course Social: https://omg.lindsaympadilla.com/ocs