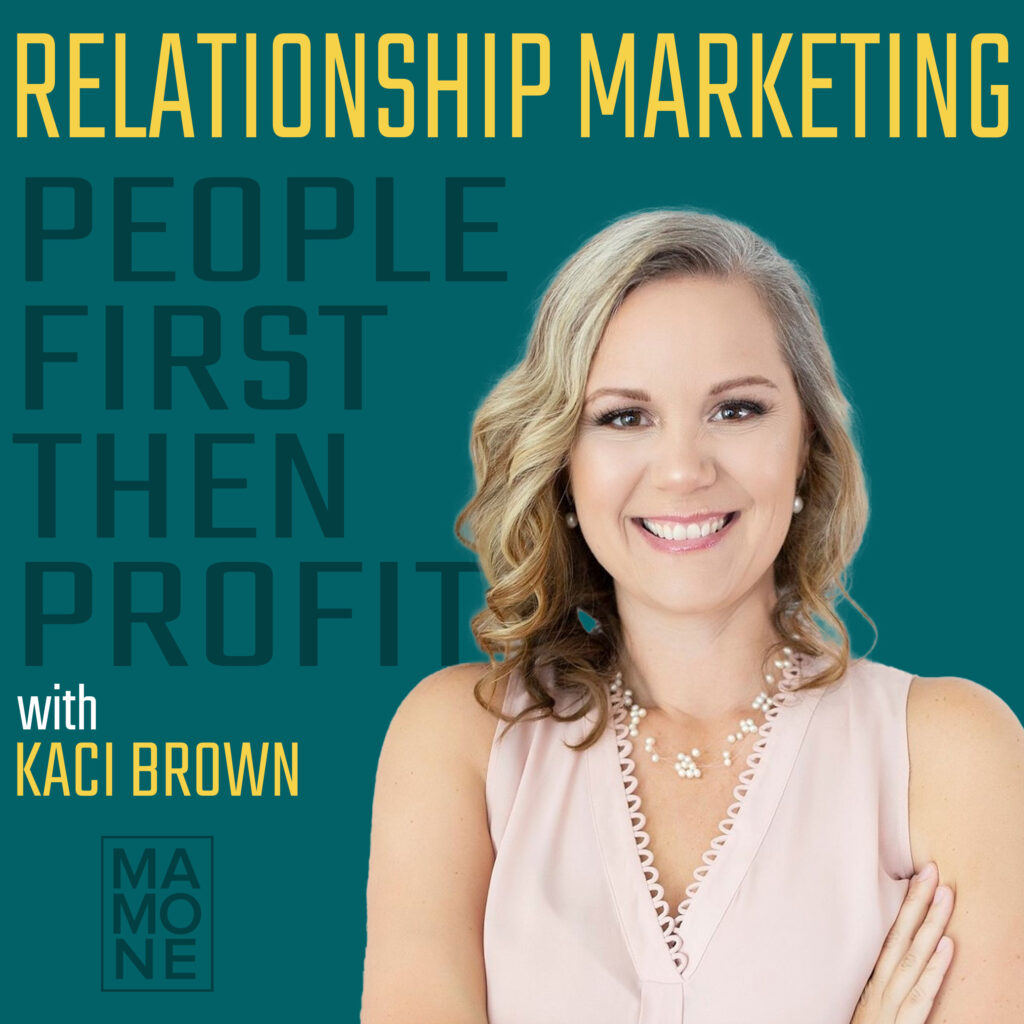 "Actions taken and resources invested to genuinely lift others up, operate from a center of integrity, encourage, and lead with a heart to serve will never be a poor investment."

— Kaci Brown | Amplify My Impact
This episode is all about relationship marketing. What it is, why you should be doing it and how it will benefit you, your clients and your business. This style of marketing and business management ensures you curate a client list of people that genuinely want to work with you and are well aligned with your core values. The value of that client is considerably more to you and your business because they will reward your kindness and generosity with loyalty and by championing you and your business. Even those that are not current or former customers can be valuable members of your community as brand fans that appreciate, advocate and refer your business. Let's just go ahead and say it, relationship marketing makes the world a better place because you will have created an emotional journey and genuine bond with clients, partners and brand fans. We've titled this The Maya Anjelou effect. See, she is noted for saying, "I've learned that people will forget what you said, people will forget what you did, but people will never forget how you made them feel." This is how you create a brand and business that people love!
I am joined this week by fellow relationship marketer and people person Kaci Brown and boy did we have a great time defining relationship marketing, dispelling some common misconceptions and telling stories from our professional past to illustrate the power of relationship marketing and the positive impact it can have on your business and your life.
Listen to the People First Then Profit podcast on Apple Podcasts, Google Podcasts, Spotify, Stitcher or wherever you get your podcasts.
Be sure to visit http://www.Peoplefistthenprofit.com for a ton of great content, free resources and links to the People First Then Profit Community
Resources:
Episode Link: https://podcasts.apple.com/us/podcast/ep-3-2-what-relationship-marketing-is-why-you-should/id1500987210?i=1000489085491
Amplify My Impact
on Facebook | https://www.facebook.com/AmplifyMyImact
on Instagram | https://www.instagram.com/amplifymyimpact/
Website | www.amplifymyimpact.com