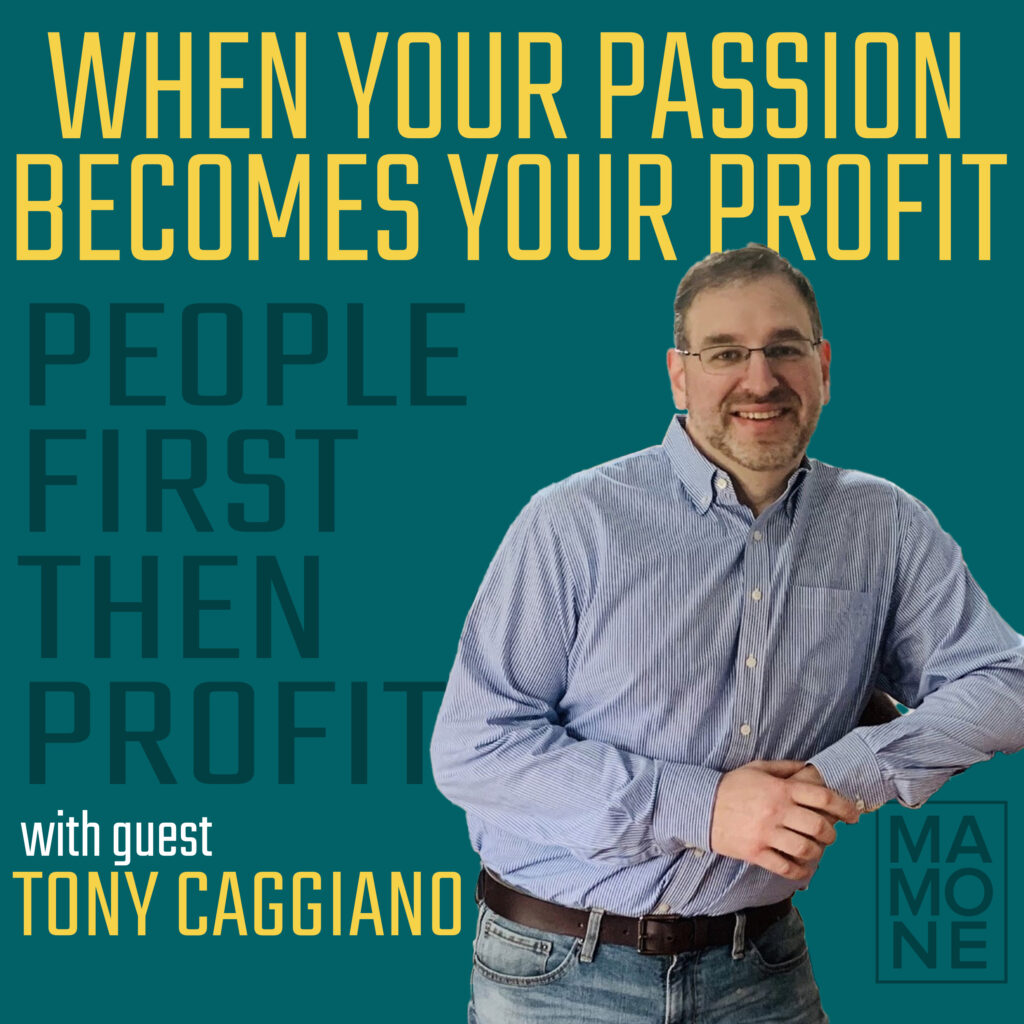 "My true passion is to help others. Forming genuine and long lasting business relationships by offering to assist people first has allowed me to grow my business exponentially"

— Tony Caggiano | The ADA Comply Guy
---
You heard it right there in the podcast intro. Entrepreneurship is not for the faint of heart. It's an in first out last do whatever it takes to get it done kinda life. If you care going to go the distance and succeed, you have got to find and follow your path from passion to profit.
This week's guest is my friend and fellow entrepreneur Tony Caggiano. He started his entrepreneurial journey earlier than many of us at the ripe old age of 10. He's is a technology industry veteran, a serial entrepreneur and a dedicated husband to his wife Kim and loving father to Dylan 14 and Aiden 10. It was from deep within these professional and personal roots that the ADA Comply Guy was born. Tony's son Dylan was diagnosed with Autism at the age of two. Since then, he and his wife Kim have dedicated much time and effort to allow Kim the opportunity to write a book to help other parents with autistic children which will be published in October.
Based on his experiences with Dylan and the Autism community over the years, Tony developed a heightened awareness of and desire to help other differently abled communities live full and complete lives. The ADA Comply Guy understands the importance of and is on a mission to ensure every website and sales funnel is accessible to users with disabilities in an effort to enable or improve their experience. With his simple to install software, business owners and entrepreneurs can immediately increase their audience, ensure their site is ADA compliant and, greatest of all, help ensure the internet is accessible to people of all abilities.
Follow along as two old Italian entrepreneurs discuss our unique paths to entrepreneurship and the courage it took to say goodbye corporate careers in exchange for this crazy life. We dig into the importance of relationship marketing (of course), how to put the People First Then Profit principle to work for you and we creatively expand on the often heard Know, Like and Trust concept.
Tony and I have a profound mutual respect and admiration for each other that is founded in our shared experiences and belief that making your Passion Your Profit is the best way to find true success!
Listen to the People First Then Profit podcast on Apple Podcasts, Google Podcasts, Spotify, Stitcher or wherever you get your podcasts.
Be sure to visit http://www.Peoplefistthenprofit.com for a ton of great content, free resources and links to the People First Then Profit Community
Resources:
Episode Link: https://podcasts.apple.com/us/podcast/ep-3-4-when-your-passion-becomes-your-profit/id1500987210?i=1000490398820
Facebook: https://www.facebook.com/Tony.ADAComplyGuy/
Instagram: http://instagram.com/adacomplyguy
Website: https://adacomplyguy.com/ada-comply-intro
Youtube: https://www.youtube.com/channel/UC8VHqb8LQQhESQ6pejz2dCQ