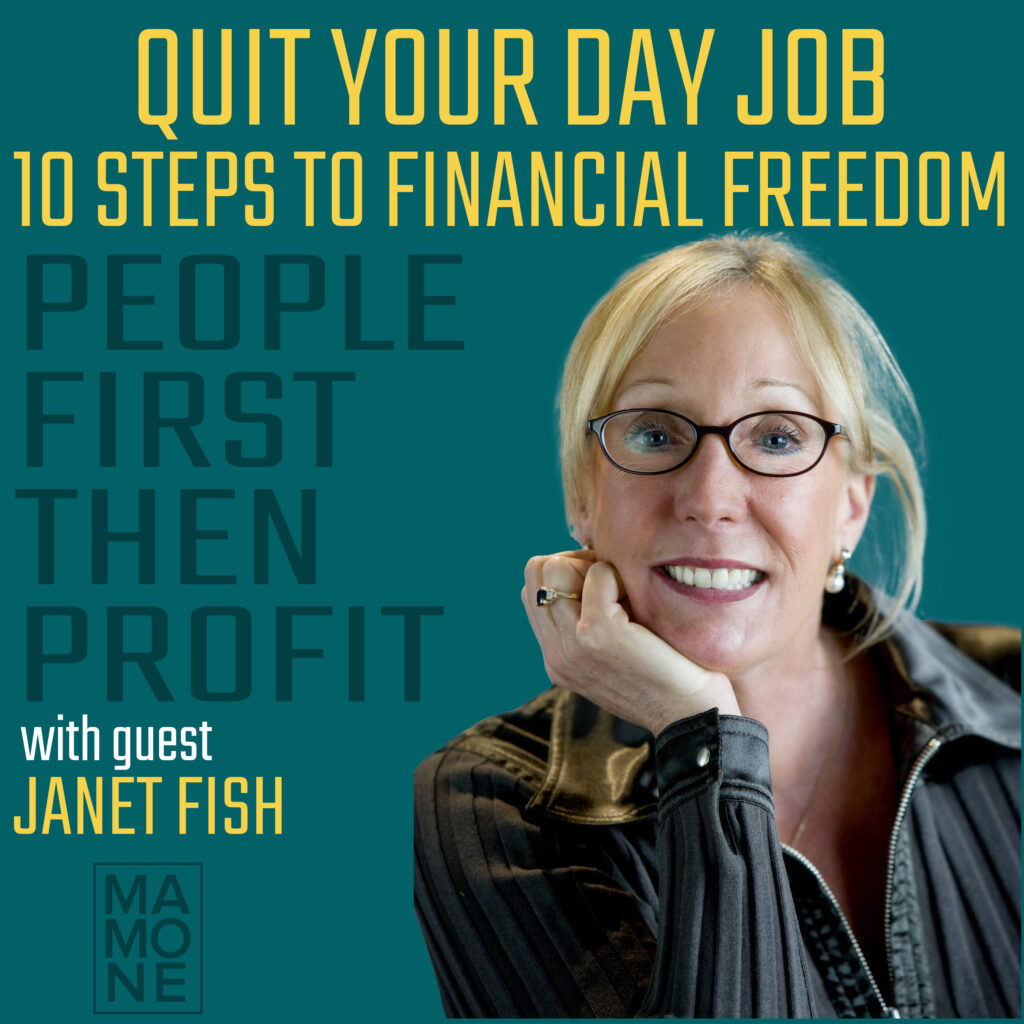 "Mindset is so key. We don't really grow unless we are challenged…that is the greatest way to grow!"

— Janet Fish | Professional Ass Kicker
One of the most intimidating elements of striking out that bold new path towards entrepreneurship is financial uncertainty! Nevertheless, a great number of professionals leave established well paying careers with tremendous benefit packages for the all too often precarious life of an entrepreneur! We should all be exceedingly grateful that they have taken this courageous step because the contributions they have made to us and to society are considerable. Rest assured there is no need to go it alone!
There is a community of us ready to help with support and resources. Speaking of support and resources…
This week's guest, Janet Fish is a reformed corporate executive turned serial entrepreneur and found her passion in coaching others. She is known as a PAK, (professional ass kicker) and challenges her clients to get out of their own way and get into massive action. Janet is the host of the Breakaway Entrepreneur Podcast and author of the Amazon best selling book Quit Your Day Job – 10 Steps to Finding Financial Freedom 2nd Edition.
Janet and I chatted about the rewarding journey that is entrepreneurship while reviewing the first few steps in her 10 Steps to Financial Freedom process. Her advice for how to get started by determining how you can use your unique skill set to solve a problem or challenge and how you can do it more efficiently than your competition is something every new entrepreneur should know. From there Janet keenly highlights the importance of your revenue model, marketing plan and the plan to routinely review and gauge the success of all your efforts. You won't want to miss the difference between aspirin and vitamin marketing…that's just gold!
Listen to the People First Then Profit podcast on Apple Podcasts, Google Podcasts, Spotify, Stitcher or wherever you get your podcasts.
Be sure to visit http://www.Peoplefistthenprofit.com for a ton of great content, free resources and links to the People First Then Profit Community
Resources:
Episode Link: https://podcasts.apple.com/us/podcast/ep-3-8-quit-your-day-job-janet-fishs-ten-steps-to-financial/id1500987210?i=1000493721056
Ultimate Podcast Launch Formula: https://turnkeypodcast.mykajabi.com/a/36373/5TzrchXL
Janet's Website: https://breakawaybusinesscoaching.com
Quit Your Day Job – 10 Steps To Financial Freedom Book Link: https://breakawaybusinesscoaching.com/product/quit-your-day-job/
Janet's LinkedIn Profile: https://www.linkedin.com/in/janetfish/

*Please note that as an affiliate of the Ultimate Podcast Launch Formula I receive a commission for those that enroll in the course.  Rest assured, I recommend this course because it worked for me and if you want the education, tools and community to successfully launch and host your podcast I am confident it can work for you too!